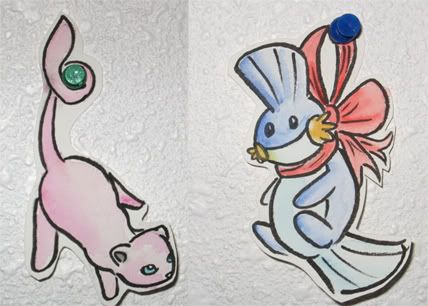 A friend of mine bought me a pikachu DS stylus. I made them a mew and mudkip watercolor wall hangers as a thank you.
Oof, life is... beating me senseless. This week has been pretty busy, and it's only going to get worse. Didn't help that most of sunday and monday were spent bent over the porcelain god, puking my brains out. That's how stressed I am - I'm actually sick.
There have been a few silver linings, however. On monday, after a very long wait at the DMV, I went to Target to look for decent nerf/water guns as props in my group's con costumes. I found a large six shot revolver that kind of looks like Hellboy's
Big Baby
, and a large gun based on military assault rifles. I was also wanting to give one of our people a red lightsaber (she is just that evil), so I went looking for one. I was going to just buy one of the cheap little kid ones, but I saw that a spring-loaded Vader lightsaber that lit up and made noises was on sale. So I had to buy it. And while this person in my group can use it during the con, there is no way I'm giving it away. Not at all.
Later today I'm going to go talk to my potential boss. I need her to know that there is a lot of stuff going on with me this semester, and if I can get my work schedule to fit to it, I won't be able to work for her.