Made it to school safely, new battery/alternator seems to be working pretty good. Though, it does make a lot of high-pitched whirring noises when I start the car, or when I'm driving really slowly. Anyone on my f-list know stuff about cars? Is this normal? Should I be worried?
Roommate hasn't moved in yet, but I did get to meet some of my suite mates. Who only kind of strengthened my "people can be downright awesome sometimes" sappiness from this morning, as when I first met them, I had been carrying a box and a pillow to my dorm, and was a few feet away from the door when the bottom of the box fell out and all my stuff went everywhere. They helped me put everything back in the box and offered to give me a hand up to my room, even though at the time they didn't know we were in the same suite. :> People have put me in such a good mood today, it's so wonderful.
One last thing from me today: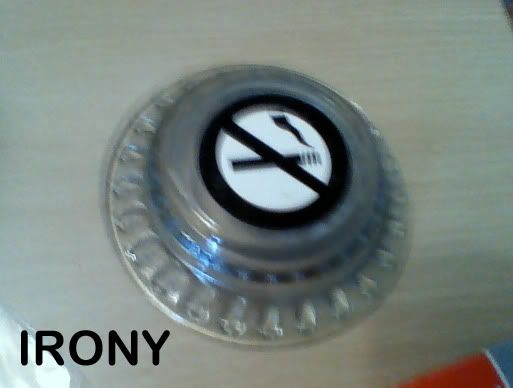 That's an ashtray. With a "no-smoking" sticker on the bottom. That was in my non-smoking hotel room from last night. When I first noticed it, I was pissed, because I'm always pissed to find ashtrays in non-smoking rooms, but when I saw the sticker I just had to laugh.