Chocolate-dipped cheesecake balls.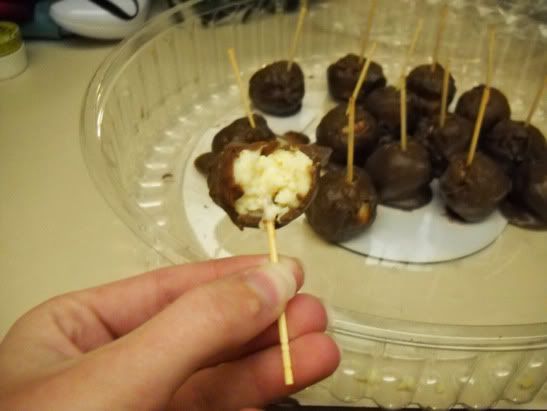 Oh yeah.
I wasn't really planning on baking this weekend, or really any time soon, but one of my roommates was going to her friend's baptism and wanted to bring a dessert, so she asked me for ideas. At first we were going to make cookies, but then I remembered hearing about these, and thought that would be awesome.
These are the easiest thing I have ever made. Buy a large, plain cheesecake. Using an ice cream scoop or a melon baller, scoop out the cake (avoid the crust) and roll into little balls. Melt some chocolate candy melts in a bowl, and dip the balls in. Press in a toothpick or lollipop stick and set on wax paper to dry. These are little amazing bites of heaven. I know. The Mormons I made them for told me so.